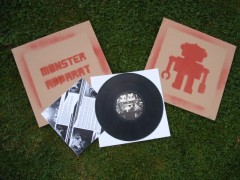 Trackinfo:
Bonnasynth lost'n found – Written as a track to finish off our livesets back 2009. We all agreed that this was a lifetrack only. We promised that it should be included in every future gig but it should never be released. But here is so, so much for that promise, I guess we just changed our minds! Here is a brand new version of the track.
Captain of Mars – We wanted to use voices from toys, and so we did. You can hear a German speaking toy robot we got from "Der Debile Rest" on a gig in Germany, a swedish learn to spell toy called "Video Technology Lesson One" found a flee market. You can also hear Johan and Mathias laughing in the background while recordig them!
Eternal Cabaret's – Made as a surprise for a liveshow celebrating a record shops birthday. It's about the joy of getting older when your life is your show.
Humans – This is a pure disco track, perfect to make robotic dance moves to! Very 80′s, very present and still very futuristic. For some reason it took like forever to record!
Shiny new dancing shoes – There was an original and more simple version of this made in 2010. This is the very true story about Johan as a young boy, getting a pair of new shoes to wear at his first disco. So, did he get the girl of this dreams? No, he didn't!
Tricky Ricky – The original version of this track is from 2010, written just days before a gig in Berlin. We didn't have any lyrics for it but Daniel promised to improvise. A few hours before the gig Daniel came out from the shower with the biggest smile on his face. The soap in the hotel shower was called Tricky Ricky. The rest is history.
Limited to 250 numbered copies. Every copy comes with unique hand stenciled sleeve and an info sheet.
Listen here and order here.