Dais Records: ADULT. – This Behavior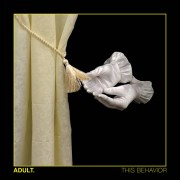 Over the course of the last two decades, Detroit-based duo ADULT. (Nicola Kuperus and Adam Lee Miller) have released six albums and nineteen EPs and singles across some of our favorite labels: Mute, Ghostly International, Thrill Jockey, Clone Records, Third Man Records, and their own label, the revered Ersatz Audio. November 1998 marked their first release: the five-song 12″ "Dispassionate Furniture". This September, twenty years later, Dais Records is proud to announce ADULT.'s seventh full length album: THIS BEHAVIOR.
The album began as 23 demos written and recorded in a remote cabin in the woods of Northern Michigan during the dead of winter. In total isolation, and with a reduced amount of gear (a modified version of their live setup) on the cabin's kitchen table, the duo were completely immersed in an incessant inescapable studio of their own making – looping, repetitive analogue sequences grinding away day and night. At the end of the intense demo session, a handful of peers were enlisted by the band for the difficult task of paring down the demos into the final album.