Dais Records: Martial Canterel – Lost At Sea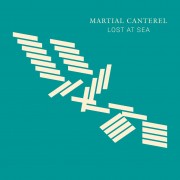 Since composer Sean McBride unveiled his first utterance as Martial Canterel almost 2 decades ago, he has produced a body of work both substantial and alluring within the field of live analogue electronic music. Effortlessly fusing a variety of styles and influences, Martial Canterel is one of the premiere outfits utilizing analogue electronics and modular synthesizers. In particular FM synthesis is employed to produce clustered polyphonies and organic atmospheres – a staple of his signature style.
Three years have passed since Martial Canterel's last full length album Gyors, Lassù was released on Dais Records. During this down time, McBride found himself in a state of flux, ebbing back and forth between material displacement and musical aestheticism. His expert pedigree in electronic sound and arrangement bridges the gap created by an undecidability between life at home and abroad – his new album, Lost At Sea, is an attempt for the artist to locate common ground, mutating fable with reality, exteriority and interiority.