Dark Entries Records: Bézier – Cosmologist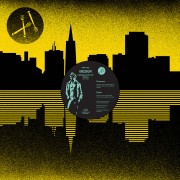 Honey Soundsystem is pleased to release 'Cosmologist', the latest offering from our Resident DJ: Robert Yang aka Bézier. A multi-instrumentalist, Robert was trained in saxophone starting at age 10, before moving onto a Fender Telecaster after high school. After being exposed to Southern California rave culture in the late 90s, he moved onto DJing and collecting records. By the time he planted his roots in San Francisco in 2005, Robert had built an impressive analog synth-based studio, which also serves as the creative hub for his riveting live performances.
'Cosmologist' explores Robert's personal universe with three tracks that connect his varied musical lineages. "Cosmos", a celebration of the late 80s/early 90s KIIS FM universe, is built around an infectious freestyle hook that morphs into a seven minute tour of intersecting styles. "Ether" begins as gothic night-driving electro, but breaks into fantasy-scapes inspired by Italo and 1980s Japanese anime theme songs. The final track, "d. Quelle", clocks in at over 11 minutes, incorporating bebop jazz solos drawn from his early exposure to improvisation techniques by Charlie Parker, Cannonball Adderley, and Stan Getz. All songs have been mixed by Mark Pistel (Meat Beat Manifesto, Consolidated) at Room 5, San Francisco and EQed for vinyl by George Horn at Fantasy Studios.