Dark Entries Records: Bézier – Telomeres EP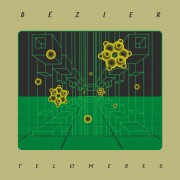 Dark Entries is proud to release the sophomore EP from Bézier entitled "Telomeres." Bézier is the moniker of local SF musician Robert Yang, who also is part of the illustrious Honey Soundsystem crew. "Telomeres" is the follow up to Bézier's debut EP "Ensconced", released in 2013. The title relates to themes of time, science, analytics and procedures. Bézier integrates the refrains of Spanish new wave and Italo disco with the attitude and aggression of underground styles like synth-punk and industrial. These six tracks were written, produced and mixed by Bézier at his home studio in San Francisco between 2014 and 2015, and feature the debut of his own vocals.
All songs have been mixed by Mark Pistel (of Meat Beat Manifesto fame) at Room 5, San Francisco and EQed for vinyl by George Horn at Fantasy Studios. The vinyl comes housed in a jacket featuring an illustration by in-house designer Eloise Leigh riffing on early 80s computer graphics. The matted sleeve is meant to resemble the side panels of early computing instruments like Macintoshes or the Commodore 64. Each LP includes a postcard with a photograph of actual telomeres captured by a microscope camera by the Blackburn Lab at UCSF. "Telomeres" are life's building blocks, changing the lengths of chromosomes to determine lifespan. This music is an investigation of a future in which time elongates as well as contracts.
Listen here and order here.